Andy Walker from the Yorkshire Party posted the following to his Facebook Page:

Thank you to everyone who completed the online or paper survey – well over a thousand online replies and more than 150 paper replies make this one of the biggest hospital surveys ever conducted here, by anyone.
Here are the results of the Independent survey by Bridlington Health Forum and Ward Councillors. The people of Bridlington have made their views crystal clear – about the changes they don't like and the services that they want and need. I believe that the results show a failure to provide equality of access to services for all 80,000 residents in the catchment area of Bridlington District Hospital – obviously, many more people right now and throughout the summer.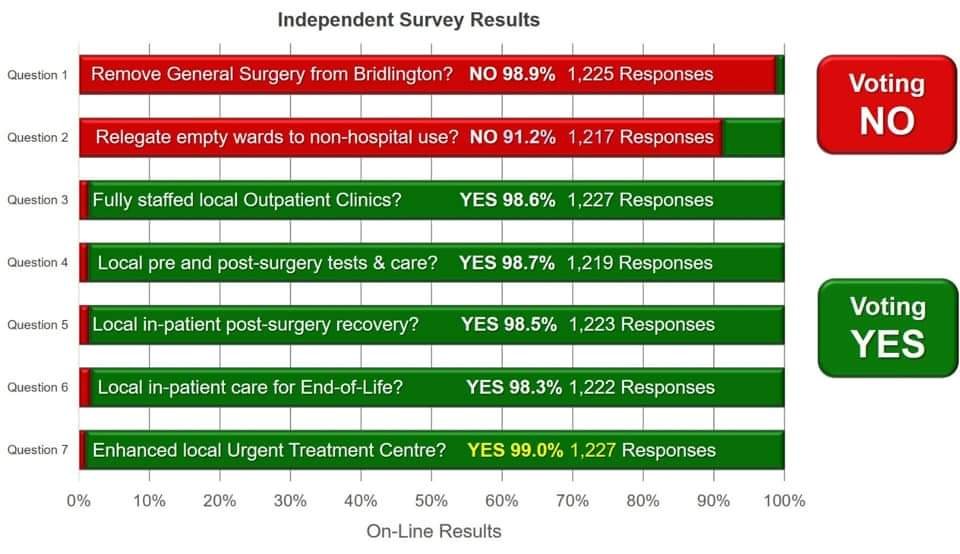 These results have been fed-back to York Trust, the Clinical Commissioning Group, Councillors on the ERYC Health Scrutiny Committee and of course our MP Sir Greg Knight. Our task now, is to find a way to restore both services and confidence – to support staff and residents and that needs a fresh and meaningful engagement with all the administration agencies with the needs of residents at the centre.
The images summarise the results but here's a link to the full dataset in multiple formats. Please let me know if you need further analysis: https://drive.google.com/drive/folders/1v5tDJsPmnCBHj4XRL5iFG15gHruvzcRd?usp=sharing