The Mayor of Bridlington, Councillor, Liam Dealtry has, last week, announced the launch of this years "Design a Christmas card competition", the winning design to be used as the official Christmas card from the Mayor of Bridlington.
The competition is open to children between the ages of 5 and 16, and their designs should be sent to the Town Council at: 2a Marshall Avenue, Bridlington, YO15 2DS, no later than Sunday 22nd November 2020.
All entries must have the childs name, age and the name of the school they attend.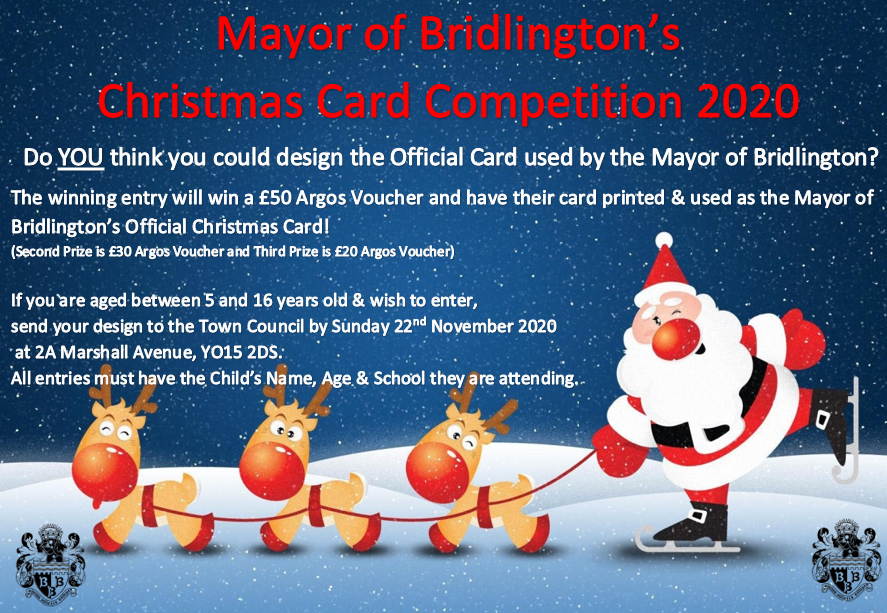 As well as the winning entry being printed and used as the Mayor of Bridlingtons official Christmas card, the designer will win a £50 Argos voucher, the 2nd prize is a £30 Argos voucher and 3rd prize a £20 Argos voucher.
The announcement follows on from the Town Council appealing to all Bridlington retailers, to get involved in their "Christmas window competition". All those wishing to enter should get an entry form from the Bridlington Town Council office: 2a Marshall Avenue, Bridlington, YO15 2DS or it can be downloaded from the Town Councils website: www.bridlington.gov.uk
Entries should be returned to the office or emailed to: civic@bridlington.gov.uk by Sunday 22nd November 2020.
The winning Christmas retailer will receive a trophy to keep for a year and a plaque to keep and display forever.